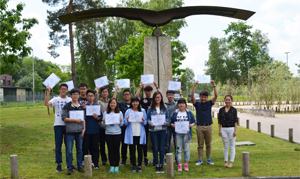 A group of 13 Chinese students and their teacher stayed at ESIGELEC, as part of the first edition of the French Study Tour seminar. The group stayed in the region from 17 to 28 May, combining industrial visits, cultural trips and lessons.
Aged 20 and 21, the students from the Xidian University in Xi'an, a partner of ESIGELEC located in Shaanxi province, where they study automation. During their stay in France, they took French improvement classes, as well as more technical sessions in electronics and programming.
The group also discovered the rich historical and cultural richness of the Normandy region, enjoying several excursions, in particular to Mont-Saint-Michel, Honfleur, Le Havre and Paris. Finally, the delegation paid a visit to the Renault plant in Cléon, as well as the thermal power plant in Le Havre, two of the driving forces in the Normandy economy.
The French Study Tour is therefore particularly rewarding for the young students destined for engineering, as it gives them a solid overview of the world of business in France.
Contact : Cyril Marteaux, Director of International Relations,
cyril.marteaux@esigelec.fr