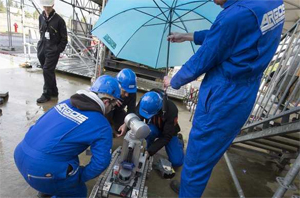 The French team once again caused a sensation in the second round of the international robotics contest, Challenge Argos, organised by Total with the support the ANR, the national research agency.
VIKINGS, the project representing ESIGELEC-IRSEEM and SME Sominex at Challenge ARGOS, moved one step closer to its goal by producing the best results in the tests conducted throughout one week in April in Lacq, in the Pyrenees-Atlantic region. It was their second victory, following their first-round win in June 2015.
This challenge required new skills to be demonstrated by the competing robots, in particular the ability to detect unusual noises, to climb and descend stairs, to avoid obstacles intuitively, to move to safety when an alarm goes off and to connect automatically to a charging point. The VIKINGS robot did not run into too many problems during the tasks, including the "operational" task on Thursday: fire alarm, wifi connection issues and water leakage simulation.
"The mechanical components of the robot, designed and built by Sominex, are reliable efficient and robust. The embedded systems, software and integrated sensors designed by IRSEEM performed well too," explained Xavier Savatier, the VIKINGS team coordinator.
The third and final competition now awaits the teams still in the running. It will take place in March 2017, when the grand winner of Challenge Argos will be crowned. In this final round, the robots will have to be even more autonomous and, above all, their systems will have to comply with zone 1 ATEX norms (Atmospheres EXplosibles), a mandatory requirement for machines of this kind to operate on oil and natural gas platforms. The team is already hard at work to do its very best on the home stretch.
Contact : Xavier Savatier, Head of Instrumentation and Information Systems,
xavier.savatier@esigelec.fr
*About Challenge ARGOS: Organised by Total in association with ANR, Challenge ARGOS, the international robotics competition, brings together teams from Japan, Austria/Germany, Spain/Portugal, Switzerland and France to design the robot of the future, capable of conducting inspections in Total's industrial sites in extreme conditions completely autonomously.
http://www.argos-challenge.com/en/home/media/list-news/back-second-competition-april-2016

Crédit photo : Benjamin Valette.