Eric Durieux, General Manager of the School, and Laetitia Reymond, Human Resources Manager of Extia, signed a school-business partnership agreement on Friday 9 March.


An overall collaboration

By signing this partnership agreement, Extia and ESIGELEC plan to commit in joint or concerted actions with a view to bringing the school's academic offer in touch with the enterprise's demands in the fields of electronics, embedded systems, information technology, engineering, networks and telecommunications.
Their objective is also to raise promote the company among students, young graduates, and former students, as well as among the teaching staff, so as to develop common projects in various fields.


Engineering professions at the heart of the partnership

TThe partners have drawn up a list of priority actions in the context of partnership, with one of the objectives being the placement of ESIGELEC graduates within Extia. In concrete terms, this approach entails :

Educational actions in order to help students to gain a better knowledge of the company and engineering professions via vocational meetings and on-site visits.
Support for the vocational project of engineering students through training courses, mock interviews, training, and drawing up CVs.
Easier recruitment by the company of trainees, graduates and foreign students.
The collaboration between ESIGELEC and Extia will thus be able to assume other forms, such as training its technician staff members to engineer level, or support the school's associations (participation in forums, graduating class sponsorships, etc.).


About Extia

Extia, which was founded in 2007, is an engineering consultancy which now has over 350 consultants, all of whom are graduates from major engineering schools, or who have completed specialised university courses of study lasting at least 5 years. The company specialises in telecommunications, energy Web/multi-medias, transports, industrial and financial sectors.
Its corporate culture is firmly based on values such as creativity, responsiveness and investments by all of its employees. This culture constitutes its strength; whilst offering a calm framework for work based on mutual trust, Extia offers multi-sector professional expertise.
For further information, visit the Extia Website :
www.extia.fr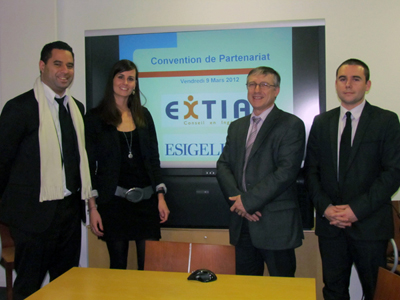 Eric Degand, a Business Engineer (Class of 2009), Laetitia Reymond, Extia's Human Resources Manager, Clément Prévost, the ESIGELEC Corporate Relations and Apprenticeships Director, and Mathieu Chevrier, the ESIGELEC Jobs - Career and Observatory Manager