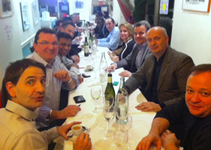 "Small is beautiful, big Network is powerful - la Sigelec is wonderful!" With these words in mind, Bruno Lescure (year of 92) launched an initiative to boost the network in Paris: a dinner on December 11th with the theme "The 2014 Sigelec Revolution." It achieved instant success with 85 bookings from alumni who had graduated in 1955 up to 2014!!
"When everyone's together, anything is possible. If everyone brings something to the table, the Sigelec and Esigelec network will grow faster. Together we're stronger, we need to share our dreams, needs/problems and expertise/contributions. Together, we bring our network's fantastic assets to the fore and activate them. We all have a key role in its success," says Bruno Lescure.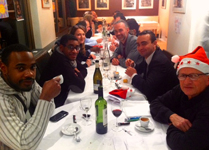 Evening report:
A lively and private restaurant!
The joy of meeting up with friends who graduated in 1955 to 2014!!
The advantage of making new acquaintances
Providing data from a survey of alumni in Paris by Bruno
Santa hats presented to the first 60 arrivals
A gift for everyone
Speed dating style seat changes after each course for better networking
The enjoyment of being part of the revolution:
- Testimonials, questions, job offers etc.
- Dreams, needs and commitment to contributions for 2014
And an overwhelming demand to meet up again in February 2014!
Surveys, structure, organisation and agenda to follow...the Revolution is underway!
Testimonials:
"Bravo on this wonderful evening. I had a great time. It was awesome! See you soon." Dominique Pittioni 2012 graduate.
"I'd like to congratulate you for organising yesterday's event. It was a complete success and very enjoyable. Your enthusiasm and energy re-motivated us to play as large a role as possible." Alrick Bonnard 2012 graduate.
"A quick message to thank you for organising and hosting the event and to compliment you on its success. I had a nice time." Jean-Philippe Lelièvre (year of 86).
"Bravo and thank you for yesterday evening! SIGELEC is back on the attack! Regards." Malik Badaoui (year of 2010)

Contact : sigelec@esigelec.fr