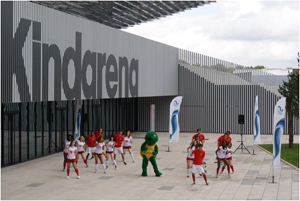 ESIGELEC students took part in a dance competition as part of the CREA SUP' CUP.
Make some noise for ESIGELEC's dance troop and vote for them by 5pm on October 12th on www.la-crea.fr/crea-sup-cup.html (one click/day/computer).
1000 people have already voted for their favourite amongst ESIGELEC, RBS, INSA Rouen, Kiné, STAPS, Archi, IAE andEsitpa.
Get clicking!
CREA and CESAR (Higher Education Group in the Rouen Region) launched the CREA SUP' CUP, a multi-sport challenge aimed at welcoming students from the CREA region to the new university term.