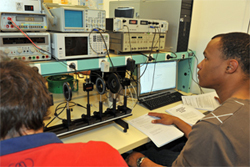 ESIGELEC performed fantastically with approximately twenty training schemes for the 2012/2013 term.
The internships mainly concern major groups such as ALCATEL-LUCENT Submarine Networks, CREDIT AGRICOLE Corporate Investment Bank, CYLANDE, ERDF Distribution, ETDE, EVOLUTEC Sarl, EXPERTIME Groupe, GLOBECAST France, GRDF, INEO Engineering & Systems, Polinorsud (AREVA), SFR, SNCF, SNECMA, SPIE Communication and SCHNEIDER ELECTRIC Industries.
Most of this Programme's students come from IT Systems Engineering, Project Engineering with IT and Networks module and Communications Engineering.
The training scheme only applies to 3rd year Engineering students at ESIGELEC and enables them:
- to be paid for the development of their 3rd year in-company professional project
- not to have to pay school fees for their final year
- to put their engineering expertise to the test
- to have an easier transition to working life