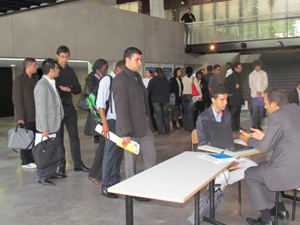 ESIGELEC hosted a Careers day on September 25th 2012 in CISE's (Embedded Systems Integration Campus) exhibition space. 80 Engineering students signed up to meet companies and try to get a training contract with a large firm.
Recruitment managers from SNCF, INEO GDF Suez, ETDE, PARTENOR, CLEMESSY, COMPLETEL – NUMERICABLE, SAPN and VALEO held interviews with students to identify interesting candidates.
The Work Study Programme provides 100 students (out of 450 potential students) with training and experience as soon as their first year. The class alternates between learning and work experience every month for 18 months with specific lessons which are then adapted during the second part of the 2nd year and the entire 3rd year.
The PARTENOR group attended the careers day and "met interesting apprentices and hopes to have the opportunity of having a student join the company soon." As for SNCF, they have asked 3 candidates to come for a more in-depth interview.
Careers day has thus enabled quality business relationships to blossom between ESIGELEC students and major international groups.
Website : www.esigelec.fr/Formations/Cycle-Ingenieur/Formation-par-apprentissage