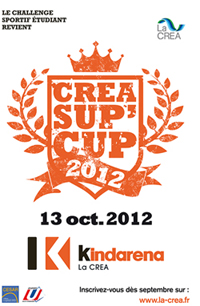 CREA and CESAR (Higher Education Group in the Rouen Region) launched the CREA SUP' CUP as a multi-sport challenge aimed at welcoming students from the CREA region to a new year of university.
Teams from each school came face to face on Saturday October 13th at the new CREA sports hall, Kindarena, for contests in handball, indoor rowing, badminton and running relays.
A dance competition was held on September 27th and uploaded online on www.la-crea.fr/crea-sup-cup.html.
There was an online clicking competition to choose the winner of the dance competition. Visitors could click on their favourite dancers as many times as they wanted (one click/day/computer) and the winner was the team with the most votes. People could vote until 5pm on October 12th.
Following the first competition held in 2011 in Maromme, the prize went to Rouen Business School.